JOURNEY TO 2020 U19 WORLD CUP BEGINS FOR AFRICAN YOUNGSTERS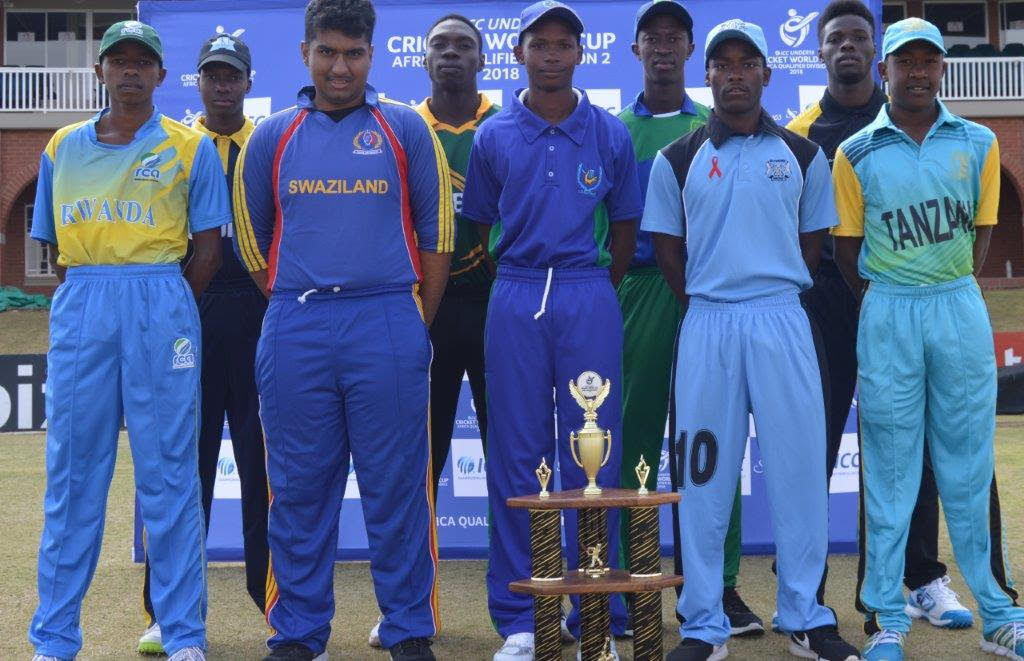 It is all systems go in Potchefstroom, as the teams have arrived for the ICC Africa U19 Division 2 Qualifier tournament, which is the first step towards the 2020 ICC Under 19 World Cup.
9 teams from across Africa have descended upon the student town of 'Potch', and they are looking to leave South Africa having graduated with one of the three spots that are up for grabs to get into the first division of African junior cricket.
Some of the finest emerging talent from Africa will be on display over the next week, on surfaces that are bound to be conducive to fine stroke-play. The 50-over format competition will test out every side's full range of skills, and only the worthy will find passage into the next step of qualifiers.
"It is very exciting now that all the teams are here, and there is a great air of anticipation for the action to begin," ICC Development Manager for Africa, Patricia C. Kambarami commented.
"This is the first step towards the 2020 World Cup, so it is terrific to think that some teams may start here and go all the way to that event, which will also be in South Africa. We have no doubt that the North West will be excellent hosts for all our players, coaches and management."
The action starts in earnest on Sunday, with round-robin games throughout the week.
SQAUDS
Botswana: Phemelo Silas (Captain), Muaz Arooz (Vice Captain) Rod Mbaiwa (W/K), Boteng Maphosa, Cedric Batshabane, Zaidul Islam, Lawrence Ntshontsi, Boemo Khumalo, Shepherd Mothusi, Leano Maphane, Jurgens Fourie, Salman Shahul Hameed, Shaswath Rangaswamy, Kgosi Machailo
Ghana: Paul Ayoleyine, Eric Amoah, Jerry Angel Gbafah, Yahaya Abdul Mumuni, Richmond Baaleri (vice capt), Mills Yaotse, Bless Bakodie, Enoch Frimpong, Aaron Boamah, David Mario Pereira, Joseph Oko Adotei (captain), Obed Taylor, Nurudeen Mohammed, Abraham Nii Quaye
Lesotho: Sello Solomon Mahadika (Captain), Mohammed Fahed Sheth, Maliehe Enier Serongoane, Ngaka Monanthane, Adnan Mohmed Mubarak Nikoriya (Vice Captain), Ts'episo David Chaoana, Katleho Emmanuel Monki, Katleho Vincent Matsau, Katleho Samuel Kampong, Ibrahim Iiyaz Tagari Makoa Marcus Mota, Ts'eliso Isdora Ralieta, Ts'epo Seliane, Mohammed Shafi Hashmani
Mozambique: José Bulele(Captain), Bernardo Adão Sambo, Gomes Frederico Gomes, Vieira Ermelindo Tembo, Alex Damião Conwana, João Jorge Huó, Bernardo Alfredo Simango, Frederico Enoque Carava, Shelton Firmino Nhavotso, Last Emílio, Lourenço Isaias Salomone, Francisco Manecas Matsolo, Lourenço Alfredo Simango, Agostinho Abilio Navicha
Nigeria: Sylvester Ameh Okpe (Captain), Sulaimon Iyiola Runsewe (V. Captain), Abdulmumuni Taiwo Mohammed, Isaac Danladi, Olayinka Elijah Olaleye, Toheeb Ishola Obisesan, Abdulrahman Adinoyi Jimoh, Peter Aho, Shehu Isiaka Audu, Segun Ogundipe, Eghosa Destiny Aghedo, Rasheed Abolarin, Samuel Mba, Ifeanyichukwu Ubohh
Rwanda Didier Ndikubwimana (capt), Jean Baptiste Hakizimana, Martin Akayezu, Jean Michelle Iradukunda, Damascene Hagenimana, Parfait Mugisha, Jean Pierre Rukundo, Seif Sulaiman, Dushimirimana David Nseniyaremye, Jean Claude Nganji, Yvan Shema, Thierry Manirafasha, Wilson Niyitanga, Amitie Iradukunda
Sierra Leone: George Ngegba, John Bangura, Eric Turay, Haroun Kamara, John Lassayo, Osman Sankoh, Emmanuel Akpo, Chernoh Bah, Aruna Kainessie, Charles Kargbo, Mohamed Kainessie, Samuel Conteh, James Tommy, Edmond Ernest
Swaziland: Wayne Holloway, Mihla Simelane, Sufiyan Patel, Muhammad Faizan, Hamza Ali, Rohan Sandeep, Sibonelelo Dlamini, Jawad Muhammad, Mohamad Hasanbhai Patel, David Sindambiwe, Abdullah Salim Bagas, Pedro Ryan, Dawood Divan, Enziwe Dlamini
Tanzania: Baraka Laiza (capt), Dhrumit Mehta, Kartik Sayal, Abubakari Alfani, Aahil Jasani, Jay Hirwania, Salimini Saidi, Krutik Thakkar, Mohamed Sefu, Sefu Mokiwa, Gokul Das, Faraji Mrope, Abdallah Jabiri, Dhruv Pancholi